Puttalam Line Development
---
The Puttlam Line of Sri Lanka Railways is 119.2 km from Ragama to Puttlam and the line deviates from Main Line at Ragama, which is 13.6 km from Maradana.
Negambo, which is considered as the end station of Colombo Suburban Area in the Puttlam Line, is 36.9 km away from Maradana and 23.3 km from Ragama. Seeduwa is the end station of the double line section.
The trains in Puttlam Line runs through the Main Line between Maradana and Ragama. The 13.6 km section from Maradana to Ragama is having three tracks and the average daily ridership (including demand from Puttlam Line) of in this section is approximately 145,000.
The railway line runs parallel to Colombo-Puttlam Road and the Peliyagoda – Katunayake Airport Expressway and almost through the same corridor. The railway runs along and through urban ceters, Ragama, Ja-Ela, Seeduwa and Negambo. At present, the number of trains reaching Colombo through Puttlam Line in the Morning Peak includes, 04 Colombo Commuter Trains. The line caters 05 trains in the evening peak.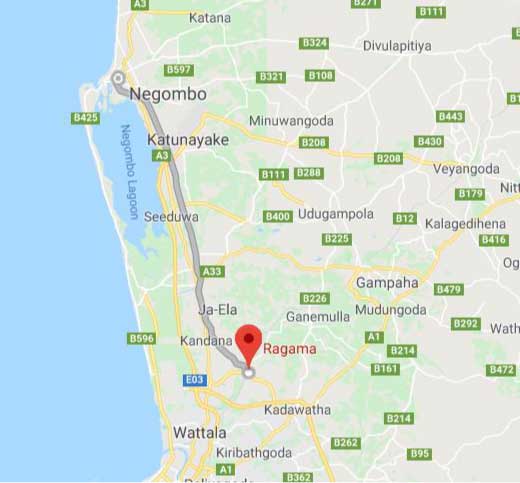 Puttalam Line
Demand for Puttalam Railway Line - Study Results
Year
Number of Passengers to carry
Number of Trains operated
Daily Volume
Volume in Peak Hour peak direction
Daily Number of Trains
Trains in Peak Hour peak Direction
Headway (time between trains)
2018
31,000
4,500
17 per direction
3
20 Mts
2025 – After Development
180,000
18,000
87 per direction
7
8.5 Mts
2035 – After Development
220,000
22,000
123 per direction
9
6.5 Mts
Puttlam Line Railway Alignment
Issues in Puttlam Line
Issues observed in Puttlam Line are similar to Kelani Valley Line and the attention was paid to the undermentioned issues which are common to the other railway lines too.
The Railway RoW is narrow : Compared to Main Line, the Railway RoW in Puttlam line is limited and allows only two tracks (double line) to be constructed in majority of the sections.
Curves in the existing railway line: In the 23.6 km section from Ragama to Negambo, there are 29 curves and the curve at Peralanda (startig point of Puttlam Line) is considerably sharp.
Level Crossings :

| | | | | | |
| --- | --- | --- | --- | --- | --- |
| Section | Distance (km) | Protected | Unprotected | Total LX | Crossing per km |
| Ragama-Seeduwa | 12.66 | 24 | 7 | 31 | 2.45 |
| Seeduwa-Negambo | 11.15 | 20 | 13 | 33 | 2.96 |

Considering the frequency of train operation for train speed of 100 kmph, it is desirable to eliminate level crossings where rail and road are at same level. Underpass or overpass (flyover) with road deviations can be considered. Private and rarely used level crossings which are unprotected will be closed and traffic will be diverted towards the nearest Flyover/underpass/ level crossing.
Puttlam Line Railway Development Design
Design of Main Line Railway was done based on two studies which were conducted during recent years under the CSR Project.
The Pre-Feasibility Study conducted by M/s. Egis International of France
Puttlam Line Feasibility Study conducted by M/s. Dohwa Engineering JV of Korea
The reader is requested to download and refer the above mentioned reports regarding Puttlam Line Development
The other Design Reports related to Puttlam Line have not been released yet.
Factors considered in selecting the solutions for the Puttalm Line
Implement the project in two phases, Ragama to Seeduwa and Seeduwa to Negambo
Section from Ragama to Seeduwa has two tracks and Sri Lanka Railway has commenced double tracking upto Negambo (completed upto Kurana). Therefore the existing two tracks will be rehabilitated and double tracking in the balance section will be done under the project.
All stations must have mutimodal features such as integration with bus operation and park and ride – this is to encourage modal shift from bus and car to rail
Travel time needs to be optimised – this is also to attract passengers
The universal access to and from trains ,and within the trains ,need to be provided.
Aviod disturbance to vehicular traffic at level crossings – this is to avoid traffic congestion
Land acquisition to be minimised – this is to avoid disturbance to lives of people and to save GoSL funds which will be used for payment of compansation.
Relocations to be done as per National Involuntary Resettlement Policy (NIRP) and ADB Safeguard Policy
Environmental issues such as Niose and Vibration need to be mitigated
ost of the construction must be minimised – this is to select the solution with minimum cost
Solution for Horizontal Alignment

| | | |
| --- | --- | --- |
| Section | Existing Number of Tracks | Number of Tracks in the future |
| Ragama-Seeduwa | 2 | 2 |
| Seeduwa-Negambo | 01 (SLR has commenced double tracking up to Negambo  | 2 |
The length of Puttalam line from Ragama to Negambo is 23 km with 29 numbers of curves. Minimum curve radius along the track is 200 m at Peralanda. The speed is reduced accordingly, at curves of lower radii. Due to the insufficient straight distance in between spiral curves at some locations; the speed cannot be increased even with the improvement in curve radius. Considering the prevailing site conditions and impacts on residential houses located in vicinity of railway corridor, further improvements in curve radius will be studied. Analysis reveal that , except in the section from Ragama and Prealanda, speed of 80 km/h can be achieved.
Solution for Vertical Alignment
Considering the existing railway vertical alignments and the newly constructed double line by Sri Lanka Railways, it was decided to rehabilitate/construct the railway track from Ragama to Negambo 'At grade'. However, at the design stage, based on the train operation (operating frequency), grade separation of level crossings will be considered.
Level Crossings
Ragama to Seeduwa section of Puttalam line consists of 31 numbers of level crossings and average distance between level crossings is 0.5 km. From Seeduwa and up to Negambo, there are 33 numbers of level crossings with average distance of 0.3 km. Due to closely spaced level crossings, requirement of grade separation to be decided based on train operation plan and traffic demand of intersecting road.
| Section | Distance (km) | Protected | Unprotected | Total LX | Crossing per km |
| --- | --- | --- | --- | --- | --- |
| Ragama-Seeduwa | 12.66 | 24 | 7 | 31 | 2.45 |
| Seeduwa-Negambo | 11.15 | 20 | 13 | 33 | 2.96 |
Train Operation
Train Operation Plan has been prepared to have an efficient and safe train operation. Furthermore, the undermentioned conceptual options were viewed and considered in the operation plan.
The outcome of Demand Modeling and passenger demand for railway (Main Line, Puttlam Line, Northern Line and Coastal Line) by 2025 and 2035
Avoid congestion and train delays, caused by terminating all train operations at Maradana and Colombo Fort station areas
The composition and capacity of Electric Multiple Units (EMUs)
Operation of EMUs and DMUs simultaneously along same section of tracks.
Future expansion of services
Speed in the current operation are given in brackets.
Section
Comparison of New/Current Operation
All-stop EMU trains
Express EMU trains
Journey Time(minutes)
Timetabled Speed(km/h)
Journey Time(minutes)
Timetabled Speed(km/h)
Colombo Fort –Rambukkana
New operation
98
51.6
68
74.4
Current Operation
141
36
94
53.8
Colombo Fort –Veyangoda
New operation
47
47.6
32
69.9
Current Operation
79
32
58
43.4
Ragama – Negombo
New operation
31
46.1
-
-
Current Operation
48
29.3
-
-
Train Operation to cater the Passenger Demand in Peak Hour in Peak Direction and to solve congestion in Colombo Fort and Maradana areas
In order to avoid seriously congested rail traffic in Colombo Fort and Maradana, the direct operation of EMU services between Main, Puttalam and Coastal Lines have been considered. This is called loop operation between railway lines. This will help us to cater Passenger Demand in Main Line and in Coastal Line with limited number of Rolling Stock. The number of train services during peak periods in peak direction has been planned as shown below.
Trainset Type
Origin – Destination Section
2025
2035
For Peak Periods
For Off-peak Periods
For Peak Periods
For Off-peak Periods
EMU Services 
Mt. Lavinia – Rambukkana
5
3
5
3
Panadura – Gampaha
5
3
6
3
Mt. Lavinia – Seeduwa
2
2
4
3
Kalutara South – Negombo
5
2
5
3
Sub-Total EMU Services
17
10
20
12
Average Operating Headway  between Colombo Fort and Ragama
3.5 min.
6 min.
3 min.
5 min.
DMU Services 
Rambukkana – Colombo Fort
2
1
2
1
Negombo – Colombo Fort
1
1
1
1
Kalutara South – Maradana
2
1
2
1
Sub-Total DMU Services
5
3
5
3
Average Operating Headway  between Colombo Fort and Ragama
20 min.
30 min.
20 min.
30 min.
Train Operation Plan with Track Utilisation and Loop Operation between Railway Lines :
Train services are planned as shown in Figure below for morning peak periods in 2035 with the direct travelling services for Main Line, Coastal Line and Puttalam Line. For evening peak periods, train services are the same as for morning peak periods, with the direction reversed.