About CSRP
---
Colombo Suburban Region of the Sri Lanka Railway Network includes railway lines from Colombo to Rambukkana (85km) on the Main Line, Colombo to Panadura (45km) on the Coastal Line, Colombo to Avissawella (65km) on the Kelani Valley Line and Ragama to Negambo (30km) on the Puttlam Line.
Colombo Suburban Railway Project (CSRP), funded by Asian Development Bank (ADB) was initiated under the Ministry of Transport and Civil Aviation on 7th of July 2016 with the commencement of Pre-feasibility Study covering the Colombo Suburban Region of Sri Lanka Railway Network.
Considering the ComTrans Transport Master Plan Study (JICA Funded) carried out by the Ministry of Transport, the Pre-feasibility Study of CSRP, was focused towards passenger and freight demands for Sri Lanka Railways by 2025 and 2035. The study included, identifying the requirement of Infrastructure Development, Passenger Needs, Hauling Power transition from Diesel to Electric, Improvements to Business Processes etc.
The project progressed and entered into Feasibility and Detailed Design stage in December 2017 and hence, the Detailed Designs for, (1) construction of 105 Km of additional tracks, (2) rehabilitation of 210 Km of existing tracks, (3) development of Railway Stations with Multi-model features, (4) electrification and signalling system, (5) development of maintenance facilities and (6) acquisition of new Rolling Stock, are being prepared. Preparation of detailed designs and bid documents will be finished in December 2020.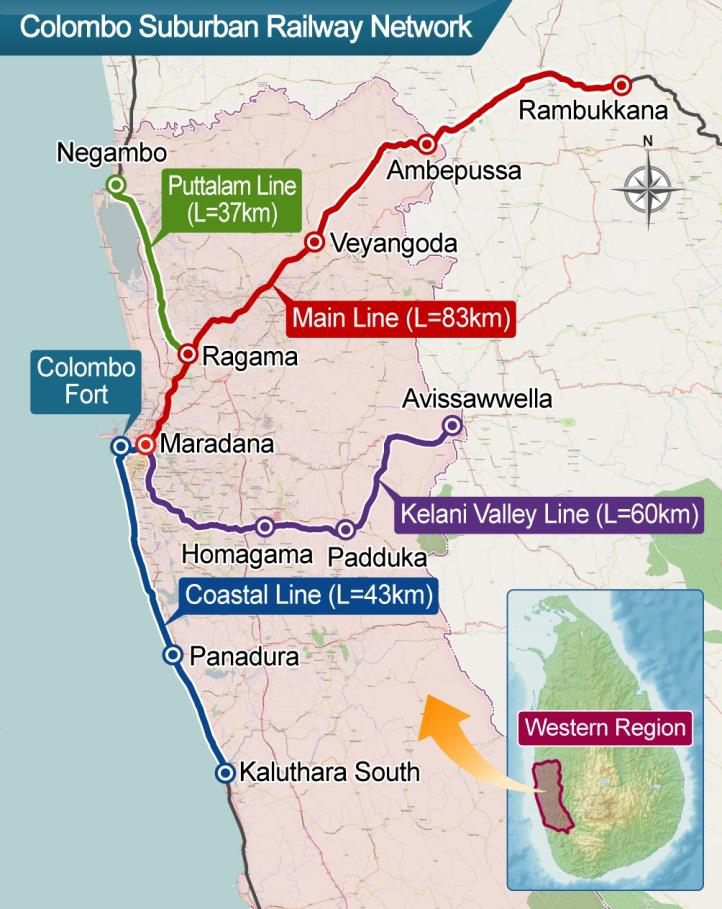 Project Overview
---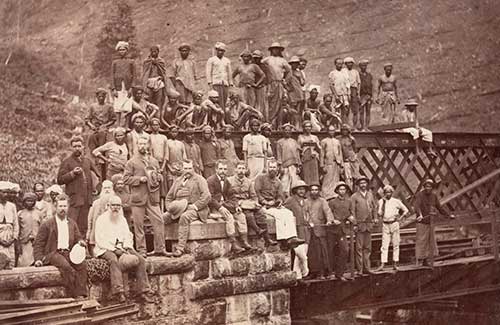 Background of the Railways
The development of the railway network in Sri Lanka started in 1864. Currently, the Railway Network, consists of around 1,500 route-km of single track, 160 km of double tracks, 14 Km of three tracks and 3 Km of four tracks with all multiple lines located within the Colombo Metropolitan Region (CMR). The network covers much of the CMR along four major corridors, namely Main Line, Coast Line, Kelani Valley Line and Puttlam Line totaling to 230 km. Railway provides an important service during the morning and evening peak period as it acts as the major commuter service from the outer suburbs to central Colombo.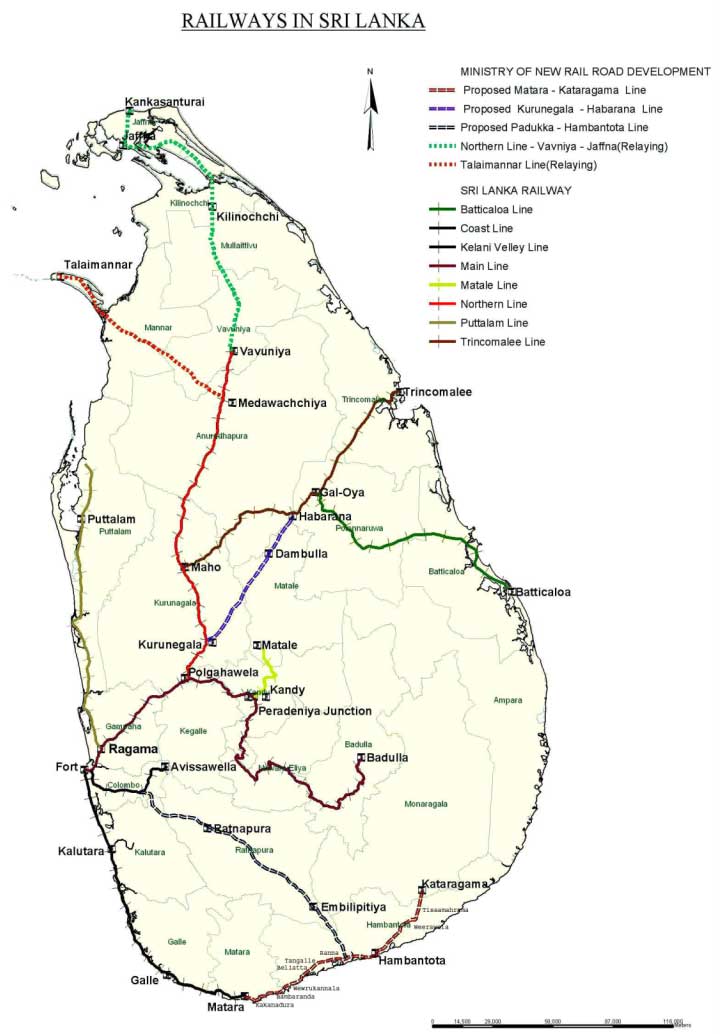 Railway Operation
The Sri Lanka Railway (SLR) operations have been divided into three divisions; Colombo, Navalapitiya and Anuradhapura. SLR operates, approximately 320 trains (including 46 Long-Distance Trains) to cover 30,000 km per day carrying an average of 300,000 passengers.
Railway Operation in Colombo Suburban Region (CSR)
Out of the four Railway Lines radiating from Colombo and serving the CMR, the Main Line, Coast Line and Puttalam Line railway corridors are well patronised, contributing about 40% of the passenger demand in peak periods. The Kelani Valley Line is single track and is not attractive due to low speeds and frequencies. The sectional daily passenger volumes in the CMR in Main Line and Coastal Line are given here.